Breckenridge aka "Breck" is one of the most iconic ski towns and resorts in Colorado offering a massive amount of diverse terrain, a charming western mining town, gobs or snowfall, and scenic views. There is literally something for everyone here at Breckenridge with awesome terrain parks, long, wide groomers, along with steep and deep terrain off the top. Breckenridge boasts some impressive stats with 5 peaks, 187 trails, 2,908 acres 366 in annual snowfall and the highest lift-served terrain in North America
Bring some extra O2 in your suitcase if you can as both the town of Breckenridge and top peak elevations are the highest in Colorado. This also scores well for the quality and quantity of snow on the hill.
The only negatives for Breckenridge is that they're a victim of their own success. Due to their wide appeal this resort attracts huge crowds from both fly in and drive up skiers. However, this is great for the raging nightlife and fun ski scene. Selecting non-holiday and mid-week times are your best bet to get a more relaxed ski experience – leaving the weekends for the drive up traffic & the party crowd.
Breckenridge is defined by the towering white peaks and offer 5 distinct skiing areas, each with its own personality and range of terrain including the High Alpine, Peak 6, Peak 7-8, Peak 9 and Peak 10. Breckenridge is so massive that you get the sense you're going from resort to resort like a Tyrollean lift system.
Breckenridge High Alpine Skiing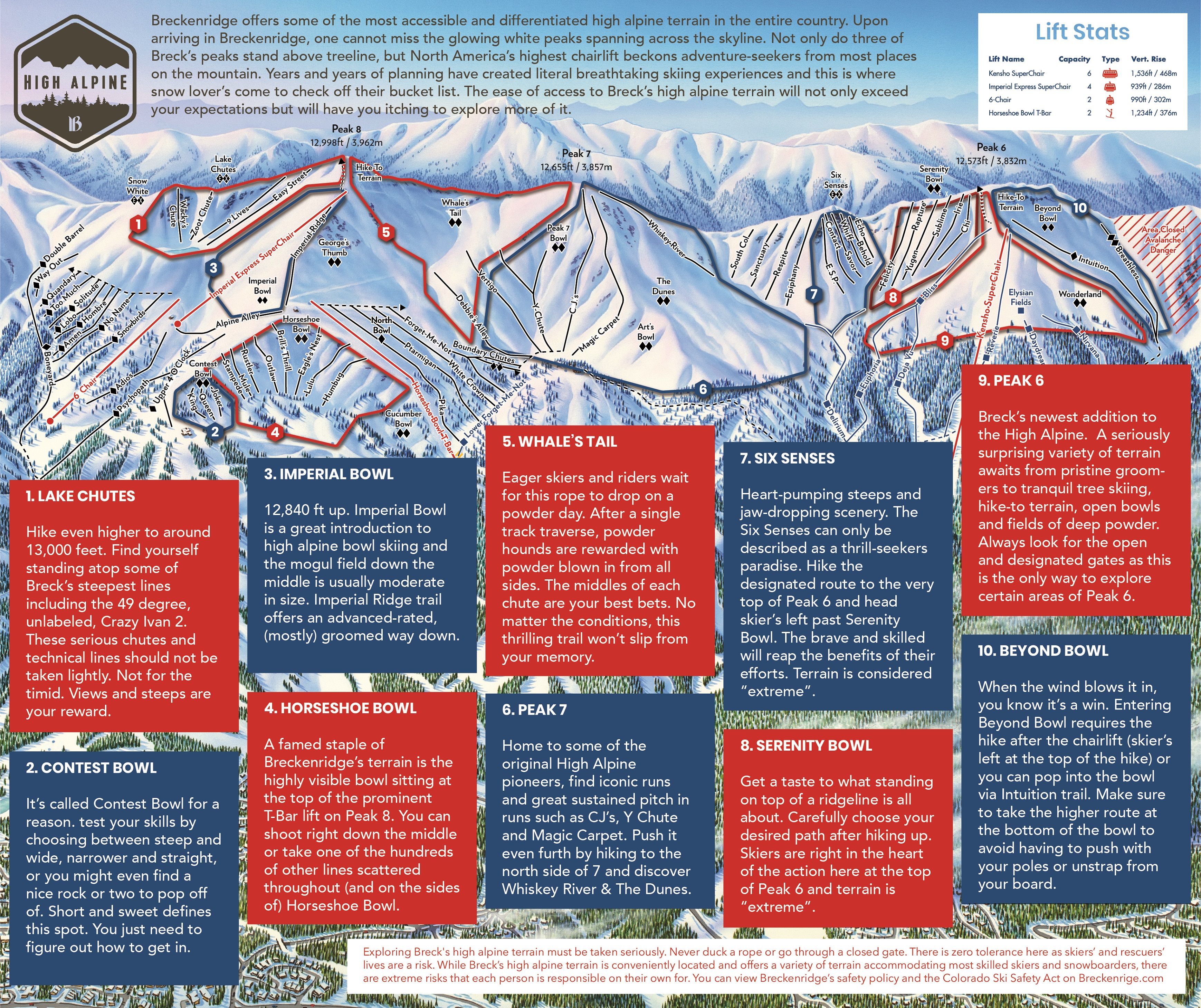 Breckenridge's High Alpine soars to nearly 13,000 ft where big lung and strong legged skiers and boarders can hike and traverse into a bounty of bowls to find miles of miles of open terrain. This is a great map offered by the resort detailing all of the great chutes and bowls. All of this terrain is quickly accessed by the Imperial Express and Kensho Super Chair – then foot driven power will take you to your favorite stash.
Peak 6
The Kensho Super Chair takes you up near the 12,597 ft peak 6 where you can access the High Alpine for advanced and expert skiers or soar down wide open intermediate groomers and open glades. Peak 6 has a remote mountain adventure feel, and you can spend a full day of skiing and never cross your same tracks. The Kensho lift takes you up over 1,500 ft of vertical making for long and thrilling runs.
Peaks 7-8
The combination of these peaks offers a full range of possibilities for intermediate and advanced skiers alike. You can enjoy great dining, vistas, and long wide open slopes and can spend a full week of adventuring before you begin to repeat your routes. New this season, Breckenridge has added the new Freedom Superchair to to increase capacity in this popular area of the mountain. Advanced and Expert skiers will enjoy a quick journey up the T-Bar to get to the goods, where intermediates can enjoy the corduroy across dozens of wide open trails. New and learning skiers will enjoy the 5 Chair with some great wide open beginner terrain.
You'll also find some great ski in / ski out lodging and dining options a the 2 base areas of Peak 7 & 8. For those who love the view head up to Pioneer Crossing or Vista Haus for a quick beer, a bite to eat, or just a warm place to rest your legs.
Peak 9
The Peak 9 base area is a busting hub for lodging, lessons, dining, and quick access and starting point for many skiers. You will literally find something for everyone here, and lots of choices to head straight up or begin to journey left to Peak 10, Up to the High Alpine, or right over to peaks 7-8. On top of The Mercury Superchair you'll find great vistas, warm food and cold beer. This is a great meeting place for lunch or an afternoon soaking in the sun.
Peak 10
The area far left of the resort is less crowded and mostly appropriate for advanced and expert skiers. If you're looking for a break from the crowds, no lift lines, great bumps and glades – head out here and stay. You can take lap after lap until your knees and lungs are ready for a break. Then… drop into Ten Mile Station for a bowl of chili and a quick beer to keep you on the move.
Snowboarding
Breckenridge is an absolute mecca for snowboarders with pro level parks, and easy to learn park terrain, High Alpine open powder bowls, and miles of groomed runs to enjoy
Early Season / Late Season
Breckenridge is blessed by location and high peaks that funnel in massive snowfall from mother nature. In addition there is over 600 acres of snowmaking on the ready when early snowfalls don't quite cover the slopes. Breckenridge is one of North America's top destinations for early season skiing due to the broad range of moderate slopes, natural snow, and advanced snowmaking capabilities. Also, as a perk you'll find the slopes, restaurants and lodging less travelled in late Nov and Mid Dec allowing you to stretch out and enjoy a normally crowded and bustling resort.
Lodging
At Breckenridge you have a wide range of options depending on what you're seeking. You can stay in-town and ride the Gondola to the slopes, or stay slopeside with vast ski in / ski out lodging options at the Peak 7, 8, and 10 lodges.
Nightlife
The town of Breckenridge is an absolute must go for those seeking exceptional Apres Ski and Downtown nightlife. There are micro-brewery's, wine bars, high end dining, casual dining and party hearty bars to crawl through the night. Weekends and Holiday's tend to get a little raucous and you'll find a more approachable downtown during the mid week and off season times.
Ratings – Breckenridge Ski Resort
Pros & Cons
Pros
High Altitude provides for great snow conditions, and powder skiing
Modern lift infrastructure – many modern high speed lifts
Easy access from Denver Airport
Snowboarders paridise
Great on hill dining
Apres Ski and Nightlife makes for lots of fun
Cons
Being a top ski destination, Breckenridge draws a big crowd
Top of the mountain takes more snow to open